iOS (iPhone, iPad) and Web Application Development by Mike Demers
Blame Drew's Cancer
Blow off Steam on Twitter...for Charity!
Update: March 20, 2015
Twitter highlighted #BlameDrewsCancer in a tweet about hashtag activism during their 9th anniversary tweetstorm!
6/9: Together, we followed those moments as they turned into movements. pic.twitter.com/O9XZ836Pox

— Twitter (@twitter) March 20, 2015
Update: Jan 7, 2015
#BlameDrewsCancer returned bigger and better to help Drew fight the return of his cancer: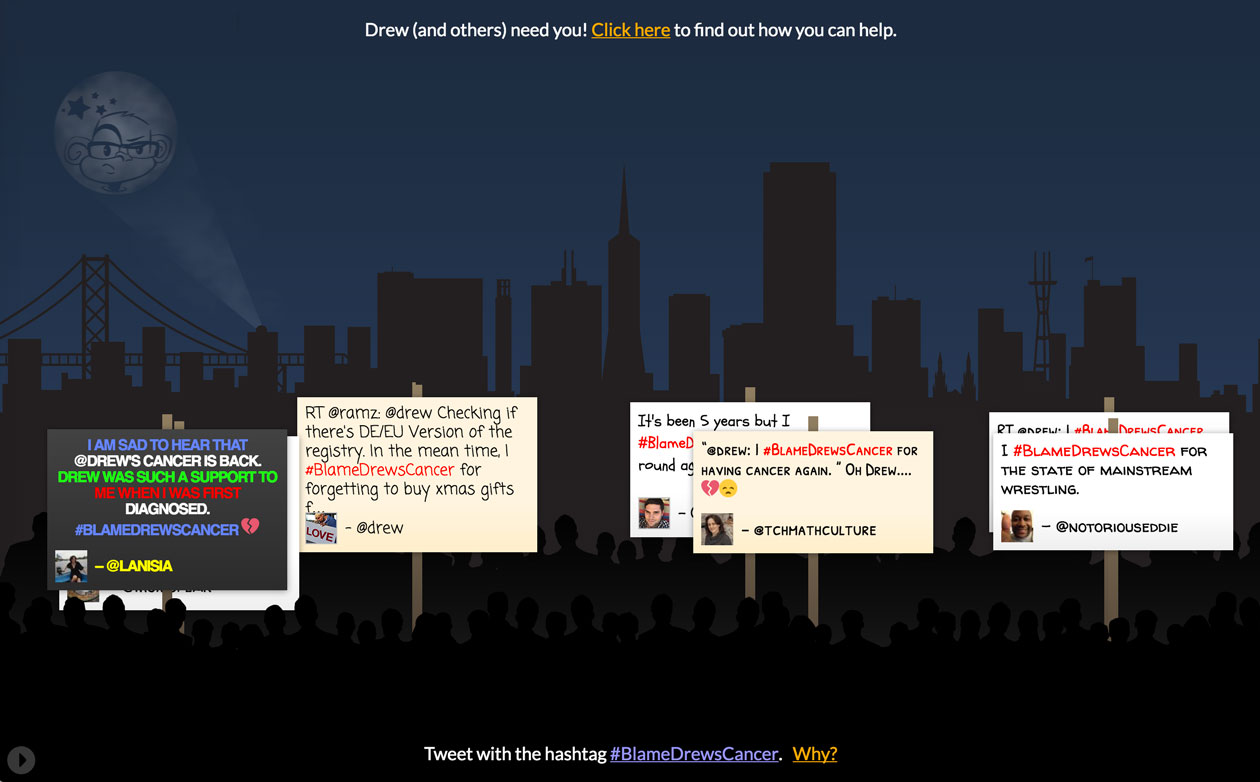 Original post: June 3, 2009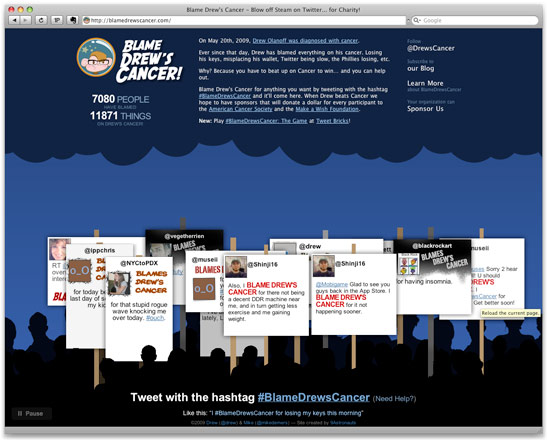 Blame Drew's Cancer is raising money for and awareness of cancer through innovative use of Twitter.
Whenever someone tweets with the hash tag #BlameDrewsCancer, their message appears on a placard in the protesting crowd at Blame Drew's Cancer.
Reaction
"just a few days after the launch of the site, it's working to great effect. This morning, the cause was a top trending topic on Twitter. And even Lance Armstrong, who has just under 1 million followers, tweeted it out…"

"When Drew Olanoff was diagnosed with Hodgkin's Lymphoma in 2009, he created a meme that became the stuff of internet legend: Blame Drew's Cancer. Drew has been diagnosed with a recurrence. The meme is back, too…"

"Drew and his friend and Hodgkin's survivor Mike Demers launched the website BlameDrewsCancer.com, which collects any tweet that blames Drew's cancer for a mishap and is accompanied with the hashtag #blamedrewscancer…"